Get a Quote!
Get a FREE Quotation for an advance of cash on a pending personal injury legal award... TODAY!
Often, claimants in Personal Injury, Sexual Harassment, Corporate Accounting Malpractice and other law cases can no longer meet their monthly rent, automobile, or other financial obligations due to the lengthy times necessary to be granted suitable awards by the court.  In the past, such claimants have frequently needed to accept lesser settlement amounts due to critical cash needs and pressing financial difficulties.  Now, our clients can sustain their personal lives and give their legal counsel the necessary time to achieve the full value of the case with the assistance of a Lawsuit Legal Settlement Advance.

Attorneys, their clients and even expert witnesses will find many advantages from our services. We remove the burden of first obtaining money to develop a case and we alleviate the plaintiff's constant struggle to obtain the capital for day-to-day living expenses!  Additionally, our Legal Advances are NON-RECOURSE which means in the event you do not win your case, you are under no obligation to pay back your advance.

You can use your Lawsuit Legal Settlement Advance to...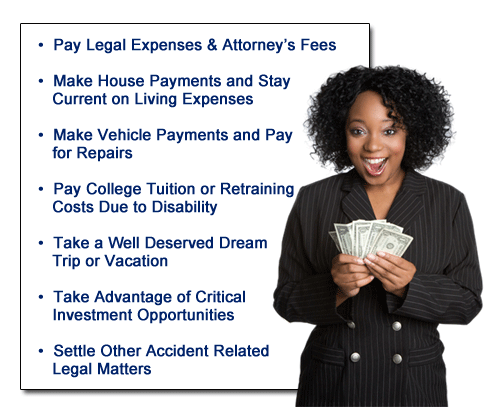 Get started today!  Contact us for a free consultation and typically, we can often provide your advance in as little as three (3) business days.  One of the best ways to make that decision is to request a FREE, no-obligation confidential quotation from our courteous contract buyers and underwriters.  We can typically provide you with a "top dollar" quote or proposal in just 48 hours.